Amerikanen zijn geweldige mensen.
Vinden ze zelf ook.
De onmisbaren, noemen ze zich wel. ( The
indispenasble
nation).
En ook vinden ze dat ze 'meer' zijn dan de andere volken. (
American Exceptionalism
)
Ze vinden dat het hun plicht is om zich met anderen te bemoeien. (
Manifest Destiny
)
Ze besteden 700 miljard $ per jaar aan wapentuig, even veel als alle andere landen ter wereld samen, dus ze kunnen zeggen wat ze willen: wie zal ze tegen spreken?
Nu worden die 700 miljard vooral uit de lonen van de gewone man
geperst
, zoals U begrijpt, en dus moeten ze wel wat theater opvoeren om dat voor elkaar te brengen.
Ze moeten de indruk wekken dat ze bedreigd worden door de
communisten
(destijds) of door de terroristen (nu).
Of ze beginnen oorlogen om anderen te helpen, 'voor het goede doel' dus.
Om vreselijke dictators te verdrijven, of om ergens democratie te brengen.
Enkele volkeren die recent door de VS geholpen zijn: Afghanen, Iraki's, Libiërs, Egyptenaren, Yemenieten, Somaliers, Zuid-Sudanezen, Rwandezen, Syriers en nu dus Ukraïners.
De 1% bedenkt het, de 99% betaalt het.
Amerika brengt Democratie in de Ukraïne.
Minister Nuland zei in december 2013 dat de VS
al 5 miljard $
had uitgegeven om Democratie in de Ukraiene te brengen.
Vraag:
Er was toch al een democratie in dat land !
Was het niet beter om in Saudi Arabië of in Bahrein democatie te brengen?
De VS coup van 2004.
De eerste poging om 'democratie' te brengen in de Ukraine was in 2004.
Yanukovich was democratisch gekozen, maar 'men' (denk aan die 5 miljard $) beweerde dat er vals was gespeeld. Er kwam dus een volksopstand: de oranje revolutie, geheel bedacht en gecoached en betaald door de VS. Gene Sharp's boek, en
de jongens van Otpor,
die eerder al Milosevich hadden verdreven.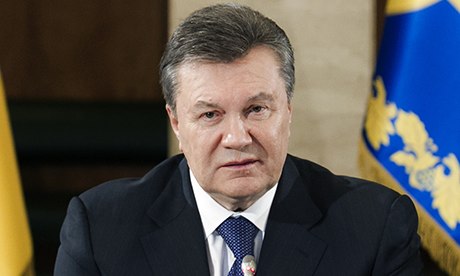 Victor Yanukovich
Weg gaat Yanukovich. Binnen komt Joeshenko, de pro-Amerika man met het pokdalige uiterlijk.
Yulia Timoshenko en Victor Joeshenko
In 2010 is zijn termijn voorbij en kiest het volk toch weer Yanukovich!
Niet naar de zin van de VS natuurlijk, want Yanukovich is uit Oost Ukraïne, en dus meer pro-Rusland.
De VS coup van 2014.
Men biedt de Ukraïne een 'Associatie verdrag' aan.
Dan wordt de handel tussen Ukraine en de EU een stuk eenvoudiger, minder invoerrechten etc.
Maar dat heeft uiteraard gevolgen voor Rusland, die al 'vrijhandel' heeft met de Ukraine, maar niet met de EU. Rusland is bezorgd dat op die manier allerlei goederen toch onbelast haar land zullen binnen komen. En Rusland is bang dat het een manier is van het Westen om langzaam maar zeker dichter bij Rusland te komen, en vroeg of laat deUkraine in de Navo opp te nemen. Als dat gebeurt dan komt Rusland in verslagen positie te liggen: Het Westen is dan zo dichtbij met haar raketten, dan het is alsof ze het mes al op de keel van Rusland heeft: Rusland kan niks meer doen om zich te verdedigen.
Maar de Ukraïne is enorm vervlochten met Rusland. Die breuk zal schade opleveren voor Ukraïne.
Volgens Westerse berekeningen kost dit de Ukraine
3 miljard $.
Maar uit later onderzoek
blijkt dat de overstap 160 miljard $ kost voo rde Uktaine.
Yanukovich kiest voor Rusland.
Dit is de kans waar de VS op heeft gewacht.
Ze mobiliseert de begrijpelijke onvrede onder de Ukraiense mensen: die willen graag Westers leven, en Westerse welvaart. De 5 miljard $ hebben er voor gezorgd dat ze allemaal denken dat die binnen handbereik lag, en nu door omkoping van Yanukovich uit hun handen wordt getrokken.
Zelfs Putin zegt de Maidan protesten te begrijpen: Ukraine heeft een zeer slecht bewind, en zeer boosaardige oligarchen, vindt zelfs Putin. ( In Rusland heeft hij zelf de ergeten verdreven, en houdt de zaak nu redelijk in toom. Maar een Rusland of Ukraine zonder oligarchen, dat is onhaalbaar, zo zegt ook de Saker.)
Enfin, Amerika organiseert een trainingskamp voor de nazi's van Pravvy Sektor of hoe ze ook mogen heten,, in Polen. En alles is tot in de puntjes geregeld. De protesten zijn zeer gewelddadig: maar alleen van de kant van het publiek. De politie moet zich in houden.
Een politieke oplossing door Rusland en Europa : 21 februari.
Op 21 februari wordt er gelukkig een politieke oplossing gesloten: Yanukovich, Putin, Frankrijk en Duitsland maken een deal: Er komen heel snel nieuwe verkiezingen, en Yanukovich zal daar bniet aan mee doen. Op verzoek van de VS wordt de Berkut terug naar de kazernes gehaald. Omdat de opstandelingen gewonnen hebben verwacht men dat de rust zal weerkeren.
Een staatsgreep door nazi's en de VS : 22 februari.
De volgende dag: Sluipschutters schieten op politie èn op opstandelingen. Iedereen is dus vreselijk boos op elkaar.
Yanukovich vlucht voor zijn leven, en de vrienden van de VS nemen de macht in handen.
Al enkele weken daarvoor had de Amerikaanse minster Nuland gezegd wie wat moest gaan doen in de nieuwe regering:
Yats moest premier worden
. ( Yatsenyuk: bankier. )
Klitch moest op een zijspoor.
En zo geschiede.
Vrienden van de VS worden de baas.
Yats was
bankier geweest en kende de VS op zijn duimpje.
In de verkiezingen ( die nu dus wel erg democratiosch zouden moeten zijn, want er was immers 5 miljard $ besteed om een reeds democratisch land nòg democratischer te maken! ) werden enkele partijen buitengesloten.... mochten niet mee doen !
En wie won de verkiezingen? Poroschenko.
In Wikileaks lezen we dat in een telegram uit 2006 deze Poroshenko als
'onze insider'
wordt aangeduid. Hij werkt dus al 8 jaar voor de VS !
Maar er komt
nog meer DEMOCRATIE
naar die Ukraiense geluksvogels : recentelijk zijn er nieuwe ministers aangesteld, en drie van hen kun je in feite 'buitenlanders' noemen: omdat ze buiten de Ukraine zijn geboren, en in de VS hebben gestudeerd en carriere gemaakt.
( Voor hun foto's: zie onder, in de Engelse tekst.)
Aivaras Abromavičius
Geboren in Litouwen. Gestudeerd in Wisconsin. Min. economische zaken.
Natalie Jaresko
Geboren in de VS. Minister van financien.
Alexander Kvitashvili
Geboren in Georgie. Studie in de VS.
Wat zouden wij er van denken als er bij ons een Duitser, een Fransman en een Italiaan
minister waren?
Zouden we dat als een 'goede verbetering van de democratie beschouwen? '
Heeft U er al één woord over gelezen in uw krant?
Wat zegt dat over uw krant?Over deze journalisten?
Zijn er Franse ministers in Engeland, Italiaanse in Duitsland, Australische ministers in China?
---------------------------------------------------
Americans are fantastic people.
They really try to help, you know.
For instance:
they helped that Iraqi people to get rid of their dictator ( and about 1 million other citizins)
they helped the Libyan people to get rid of their dictator ( and of free schools, free medical help etc.)
Now its the turn to Ukraïne to be helped the Amnerican way.
As deputy secretary Victoria Nuland said in a speech: "We have spent 5 billion $ to bring democracy to Ukraïne in the past years." (
Nuland: see video
)
Just one small question: Wasn't Uktraïne a democracy already ?
Didn't Yanukovich get voted to be president in 2004 ?
Yes he was.
But then came the 5 billion $ of the USA, and the Otpor workers, and the recipe's of mr Gene Sharp ( How to make a revolution): and Yanokovich was driven out.
Now : who was a more democratically chosen president: Yanukovich or
Joeshenko, the pro-America president who took office in 2005 ?
Then came the 2010 elections, and again the people of Ukraïne voted for Yanukovich.
Yanukovich was not a good president. He was a stealing oligarch, I suppose.
But he was not a traitor. He tried to do what was better for Ukraïne ( after he had filled his own pockets, of course). He tried to get the best deal from two rivals who both were interested in Ukraïne-cooperation: Russia and the EU.
So when the EU offered some Associatoin status, he was interested. German scholars had told him that this deal would cost Ukraïne some 3 billion $ in lost Russia-benefits. So Yanukovich was almost stepping over to the EU.
But then his own scholars showed him: No, the damage of leaving Russia will not be 3 billion, but 160 billion $.
So Yanukovich changed his mind and stayed in the Moscow camp.
Then the Nuland aides organised another protest.
And the average Kiev people supported it. Even Putin said that he understood the Maidan protests.
But the protest became a civil war. Yanukovich's polices could do nothing, and even then the press wrothe that they were criminals.( Video's show extreme violence, indeed, but only coming from the protesters.)
Then Russia, Germany, France and the Yanukovich Government made a deal on 21 fenruary : Yanukovich will soon leave office. Promise. And the Berkut will stay indoors.
Wriong decision: Now the trained and well organised nazi protesters dattacked members of parliament, attacked policemen and Yanukovich had to fly for his life.
This was a Coup, and it was succesfull.
Who did it?
The USA organised it. And extreme right fanatics did it. Unwitting assets, for sure.
Reme,ner mrs Nuland already organising who would be the new president, even before the coup:
"I think Yats should be the guy. Klitsch should not go into the government." (
Nuland forms the new government.
)
So this is democracy:
-The USA driving out several times the democratically chosen president Yanukovich,
- The USA deciding who goed into the new government. organising
Then in may there was another democratic 'election'. Only this time (aand this was new for Ukraïne) several parties were NOT allowed to take part in the elections!
So did the Americans bring Democracy , or did they end it ?
Guess who was chosen to be the new President?
Mr. Poroshenko. Do we know him? Well, the Americans knew him.
In a Wikileak we read that in 2006 the American Ambassador cabled to Washinton: "Poroshenko, our Ukraïne insider." (
our insider
)
Then these democrats began to kill their own people They never asked the rebels to come to Kiev and talk about their differences. In fact: it looks very much as if the 'Government' did everything to create this rebellion. ( Forbidding to use Ruyssian language. Say they are 'subhumns' or say: Lets throw an atom bomb on them." )
Now the newest development in this 'demicratisation' has come out: Ukraïne has 3 members of the Government whom one cannot call Ukraïnians.: born and raised in another country !
I will quote another blogger: (
Dutch
)
[
source
]
The US handpicked Ukrainian chocogarch-president Poroshenko (real name Waltzman) has appointed three foreigners as members of his new government, after giving them a Ukrainian passport first. The purpose of these appointments is to promote the process of western colonization of Ukraine.
Aivaras Abromavičius
Born in Vilnius-Lithuania,
studied in the US
and worked for the largest Baltic bank Hansabank en Swedish investment fund East Capital. Now runs the economic affairs department in Kiev.
Alexander Kvitashvili
A Georgian,
studied in the US
. Worked for
western NGOs
in Georgia. Served under neocon Saakashvilli as Minister of of Health, Labour and Social Affairs of Georgia.
Natalie Jaresko
Born in the US
and now acts a finance minister in Kiev. Has a masters degree from the John F. Kennedy School of Government and worked for the
State Department
.
Editor: western hypocrisy in action: itself taking over the government in Kiev and at the same time complaining about 'Russian aggression' in Donbass and ditto 'annexation' of Crimea, ignoring that the merger was fully backed by the Crimean population. The Ukrainian population foolishly expects that their lives will get better eventually, where in reality they are going to be used as cannon fodder against Russia.