Dit artikel staat vandaag op de website van Trouw.
Ik ga het later becomentarieren.
Wilders' Amerikaanse volgelingen zien Europa als hun voorland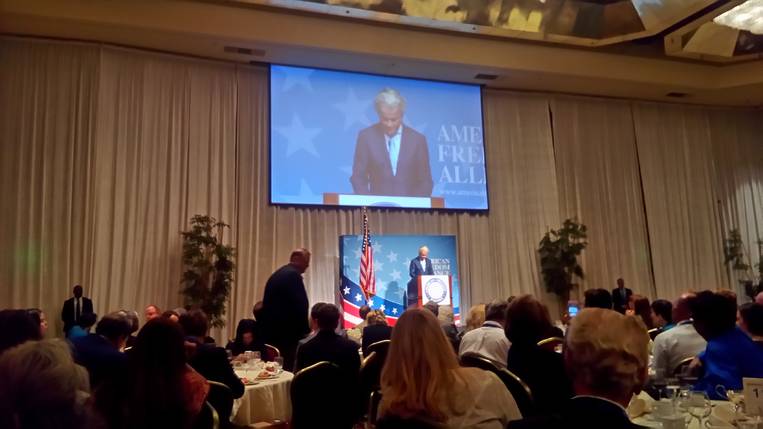 REPORTAGE
"Als we niets doen, worden we overgenomen". Geert Wilders sprak zondag op een bijeenkomst in Los Angeles zijn Amerikaanse fans toe, zoals hij al veel vaker deed. De vervolgde politicus is een attractie voor de ultraconservatieven.
Het is even wat anders dan een Kamerspeech. Als Geert Wilders spreekt bij het jaarlijkse diner van de American Freedom Alliance, dan loopt er niemand weg, kijkt niemand net zo lang naar zijn telefoon tot het voorbij is. Dan staren driehonderd paar ogen vol ontzag naar hun vedette, hun vooruitgeschoven post in Europa, waar de islamisering zó dramatisch schijnt te zijn. Dan wordt er gejuicht en gejoeld, dan is er soms opeens een staande ovatie, midden in zijn verhaal. Of luid gejoel.
Wilders: 'We must fight political correctness'
Zaal: 'Yoohoo!'
De meeste mensen zijn voor Wilders gekomen. Ze kennen elkaar van eerdere bijeenkomsten, van verwante organisaties, van eerdere fundraisers. Ze maken zich zorgen over hun land. Waar het heengaat met hun cultuur. Dat op joodse en katholieke scholen niet eens meer het verhaal uit het Boek verteld wordt. Dat de media je voorliegen, dat alle universiteiten links zijn. Dat boeken van rechtse schrijvers door The New York Times niet eens besproken worden. Dat Trump niet eens een kans kreeg of er werd al over impeachment gesproken. "Het is erg moeilijk voor ons om onszelf te zijn, hier in het linkse Californië."
Maar ze denken ook: wat wij meemaken, valt nog in het niet met wat Europeanen overkomt. Al die aanslagen, keer op keer, en dan die enorme vluchtelingenstroom die ongehinderd het continent doortrekt. 'Miljoenen'. Dat de Balkanroute inmiddels goeddeels dicht is, weet niemand.
"In Europa zijn er constant groepsverkrachtingen", weet iemand te vertellen. "De media vertellen je dat niet. Wij lezen dat op websites." Een ander: "Europeanen zijn afhankelijke mensen. Ze kunnen niet voor zichzelf opkomen." Het Europese volk is simpelweg niet opgevoed met individualisme, met opkomen voor jezelf. Dàt moet de reden zijn dat Europeanen ook bij de laatste verkiezingen niet massaal op Le Pen of Geert Wilders stemden. "Hoe kan het, dat ze zó tegen hun eigen belang stemmen?"
Bij Wilders aan tafel zit David Horowitz, één van Wilders' oudste Amerikaanse vrienden. De bijeenkomst is ter ere van hem: hij is de 'hero of conscience' van 2017 geworden, de gewetensheld. Wilders zelf was de gewetensheld van 2009.
Horowitz is een bekeerling: geboren in een links nest, werd hij later rechts. Hij maakte mee hoe de kranten zijn boeken plots negeerden. Onlangs werd een lezing van hem op Berkeley, één van de universiteiten in Californië, afgezegd na onenigheid tussen de universiteit en de organisatie. Horowitz' medestrijders Robert Spencer en Pamela Geller werd twee jaar geleden de toegang tot het Verenigd Koninkrijk geweigerd.
"Geert Wilders is onze held", heeft de directeur van de organisatie, Karen Siegemund, dan al verteld. "Hij strijdt een strijd die gestreden moet worden. Hij blijft zeggen wat niet gezegd mag worden. Niet alleen daar, ook hier. Wij zien wat er in Europa gebeurt en willen voorkomen dat het hier ook zo wordt."
Zondagavond zei Wilders dat het moeilijk zou worden. Dat de islamieten al begonnen zijn met de overname en dat nog altijd niemand terugvecht. Juist niet, ze moedigen het aan. In plaats van de islamisering bestrijden ze hem, vanwege zijn overtuiging. Hoe bestaat het, zegt Siegemund. "We zijn er hier maar op het nippertje aan ontsnapt. Als Hillary aan de macht gekomen was, dan had Wilders nooit toestemming gekregen om naar de Verenigde Staten te komen, dat weet ik zeker."
Siegemund glundert naast Wilders aan tafel. Zeker 300 kaartjes voor zijn speech wist ze te verkopen, à 175 dollar het stuk. Dat verzekert haar alliantie de komende tijd weer van inkomsten, om de strijd te voeren tegen het dominante linkse denken in het land. "Wilders en wij klikken op heel veel niveaus", zegt ze. Ze zijn het niet alleen vaak eens, ze hebben ook te duchten van hun linkse tegenstander. Wilders' PVV is de tweede partij geworden, maar wordt niet bij de coalitie-onderhandelingen gevraagd. Dat moet net zo voelen als een Trump-stemmer in Californië zich voelt.
In Nederland leeft het idee dat de partij van Geert Wilders flink binnenloopt op Amerikaanse donaties. Daar geven zijn dikke vriendschappen met Amerikaanse fondsen blijk van, maar vooral een gerucht dat de uit de partij gestapte Wim Kortenhoeven in 2012 de wereld in hielp. 'Wilders krijgt tonnen uit de VS'. Kortenhoeven hoorde in zijn tijd bij de PVV over 'koffers met cash' die Wilders clandestien uit Amerika zou meenemen.
Het was een aanleiding om de wet te veranderen. Sinds drie jaar moeten politieke partijen openbaren van wie zij grote donaties krijgen: alle giften die de 4500 euro overstijgen, moeten ze melden. Zo is te zien welke enorme bedragen SP-volksvertegenwoordigers aan hun partij afdragen, maar ook welke Amerikanen hun geld op Wilders zetten. Dat zijn er een stuk minder dan hem op zo'n zondagavond toejuichen.
Omdat de PVV geen subsidie krijgt, is de partij afhankelijk van bedragen van buiten. Maar afgaand op de lijst die de partij heeft ingediend, is de PVV weliswaar verdienstelijk in het inzamelen, maar een vetpot is het niet: enkele tienduizenden per jaar, met een uitschieter in 2015, toen een dikke ton binnenkwam. 2016 leek weer meer op 2014: toen kwam het totaal op 31.000 euro. Vast staat dat de bedragen in het niet vallen bij de miljoenensubsidies die andere politieke partijen weten binnen te slepen.
Na drie jaar opgaven te hebben gedaan bij Binnenlandse Zaken, is het duidelijk dat er eigenlijk maar één Amerikaanse financier is: David Horowitz, de man die werd gelauwerd op de bijeenkomst waar Wilders afgelopen zondag sprak. Hij speelt een centrale rol in het netwerk van anti-islamclubjes die de afgelopen jaren rond Wilders zijn opgedoken.
David Horowitz bestiert het Horowitz Freedom Center, een rechtse denktank in Californië. Horowitz, zondag: "Ik zeg liever strijdtank dan denktank. We voeren een strijd. En jullie zijn de strijdtroepen."
"Horowitz is de echt grote man hier", zegt Edgar Anderson, een jurist uit Los Angeles die uit nieuwsgierigheid naar Wilders op het Freedom Alliance-diner is afgekomen. "Hij is de aanvoerder van een relatief kleine groep vooral joodse conservatieven die zich gemarginaliseerd voelen." Niet voor niets is de avond geopend door een rabbijn, niet voor niets hamert Wilders in zijn toespraak op de essentiële rol die Israël speelt. Wilders voelt zich 'sterk verbonden' met Israël, zegt hij. "De Israëliërs voeren daar onze strijd."
Wilders intrigeert hem vanwege de constante dreiging. "Dat iemand zó ver moet gaan om zijn overtuiging uit te dragen." Ook voor Horowitz heeft Anderson grote sympathie. "Die man agendeert dingen voor anderen het zien. Hij heeft om zich heen een flinke beweging gebouwd."
Het Horowitz Freedom Center is naast een denktank vooral een fonds, dat giften ontvangt van particulieren. Die worden gestoken in allerlei activiteiten die de strijd ten goede komen: een website met feiten over de jihad, de strijd tegen de linkse media, boeken, conferenties. Aan de PVV doneerde het Horowitz Freedom Center in de loop der jaren ongeveer 175.000 euro.
Maar of die donaties zullen blijven komen, is de vraag: toen via een publicatie in NRC Handelsblad ook in Amerika bekend werd dat het Horowitz Center in 2015 ruim een ton aan Wilders gaf, rezen er vragen in de Amerikaanse pers. Hoe dat kan, wilde die weten, terwijl het Horowitz Center is gehouden aan een belastingbepaling die giften aan politieke organisaties verbiedt. Het antwoord kwam niet: net als de PVV nam Horowitz toen de telefoon niet meer op.
Eenvoudiger zullen de zaken liggen als het niet gaat om harde dollars, maar om materiële giften. In ieder geval krijgt Wilders het ene vliegticket na het andere. Zoals Karen Siegemund hem afgelopen zondag uitnodigde, wordt hij vaker gevraagd: als held van het vrije woord. Reis- en verblijfskosten worden vergoed op bijeenkomsten waar hij, voor Amerikaanse begrippen, radicaal tekeer gaat. "Islam is no religion, it is an ideology", zei hij zondag weer, maar het gejuich daarvoor kwam uit minder kelen.
"Mij gaat dat te ver", zegt Anderson. "Ik ken Iraniërs. Ik zie in hen toch niet die kwalijke werking van de islam."
Hij denkt even na. Dan: "Ik denk dat je in Europa moet wonen om dat punt van Wilders te begrijpen. Een vriend die in Noorwegen woont vertelde me over een zaak in Stavanger. Daar was een immigrant tegen het gemeentebestuur aan het procederen, omdat hij geen moskee mocht bouwen. Maar waarom was die man in Stavanger? Niet vanwege het weer, neem ik aan. Ik denk omdat hij bezig is met de overname van Europa."
"Over veertig jaar zullen we zijn overgenomen", had Wilders in zijn speech gezegd.
International Freedom Alliance
Hij zal het tientallen keren eerder hebben verteld. Zo was hij van 10 tot 27 juli 2016 in de Verenigde Staten om lezingen te houden. 'Vliegtickets en hotels zijn betaald door de International Freedom Alliance en The Gatestone Institute', gaf hij op aan het ministerie van Binnenlandse Zaken.
Het blijken loten van dezelfde stam. Achter het in 2008 opgerichte rechtse Gatestone Insituut zit ene Nina Rosenwald, die in de Amerikaanse pers geldt als de suikertante van de anti-islamwereld. Het Horowitz Freedom Center staat op de lijst van recipiënten.
De International Freedom Alliance, de andere sponsor van Wilders' Amerika-trip in 2016, is een fonds dat Wilders in 2014 zelf oprichtte. In oktober van dat jaar maakte hij de stichting ervan bekend op een conferentie in Tenessee. "Ik heb het initiatief genomen om een internationale organisatie op te richten: de International Freedom Alliance, IFA. Het doel is om de waarheid over de islam te verspreiden, onze vrijheid te behouden en de islamisering van onze landen te stoppen. IFA heeft tot doel een netwerk te vormen van verzetsstrijders in alle landen die door de islam worden bedreigd", zei Wilders toen.
Het IFA, een fonds met een ton in kas, wordt bestuurd door Robert Shillman: tevens bestuurslid van het David Horowitz Freedom Center. Ook in 2015 reisde Wilders twee weken lang door de Verenigde Staten op kosten van die International Freedom Alliance.
Het draagt allemaal ongetwijfeld bij aan de missie van Geert Wilders en David Horowitz. Maar voor Wilders' Nederlandse ambitie, die zoals hij zelf zondagavond nog aankondigde is: 'de volgende verkiezingen de grootste te zijn', is het misschien niet genoeg.
"Geert Wilders is natuurlijk vrij om fondsen voor zichzelf te werven als hij hier is", zegt Karen Siegemund van de American Freedom Alliance. "Maar niet tijdens het diner. Dat was juist bedoeld om fondsen voor óns te werven."