This blog: (
The Guardian
) http://tiny.cc/bkprhw
A Guardian journalist finally has done what every journalist should have done to begin with: check his sources.
It turns out that virtually all Syrian Opposition spokespeople are paid and promoted for many years by the USA ( and more specific: by Neocon-jewish controlled institutions, like the Henry Jackson Society.)
We know how reliable they are.( The jewish mentors of the Syrian spokesmen)
When Saddam had to be decimated, in 1991, they even trained Kuweiti people who then made completely false accusations in front of a Congress hearing and for a UN Assembley.
So all these accusations about Syria are peanuts for them.
The Syrian opposition: who's doing the talking?
The media have been too passive when it comes to Syrian opposition sources, without scrutinising their backgrounds and their political connections. Time for a closer look …
A nightmare is unfolding across Syria, in the homes of al-Heffa and the streets of Houla. And we all know how the story ends: with thousands of soldiers and civilians killed, towns and families destroyed, and President Assad beaten to death in a ditch.
This is the story of the Syrian war, but there is another story to be told. A tale less bloody, but nevertheless important. This is a story about the storytellers: the spokespeople, the "experts on Syria", the "democracy activists". The statement makers. The people who "urge" and "warn" and "call for action".
It's a tale about some of the most quoted members of the Syrian opposition and their connection to the Anglo-American opposition creation business. The mainstream news media have, in the main, been remarkably passive when it comes to Syrian sources: billing them simply as "official spokesmen" or "pro-democracy campaigners" without, for the most part, scrutinising their statements, their backgrounds or their political connections.
It's important to stress: to investigate the background of a Syrian spokesperson is not to doubt the sincerity of his or her opposition to Assad. But a passionate hatred of the Assad regime is no guarantee of independence. Indeed, a number of key figures in the Syrian opposition movement are long-term exiles who were receiving US government funding to undermine the Assad government long before the Arab spring broke out.
Though it is not yet stated US government policy to oust Assad by force, these spokespeople are vocal advocates of foreign military intervention in Syria and thus natural allies of well-known US neoconservatives who supported Bush's invasion of Iraq and are now pressuring the Obama administration to intervene. As we will see, several of these spokespeople have found support, and in some cases developed long and lucrative relationships with advocates of military intervention on both sides of the Atlantic.
The Syrian National Council
The most senior of the SNC's official spokespeople is the Paris-based Syrian academic Bassma Kodmani.
Bassma Kodmani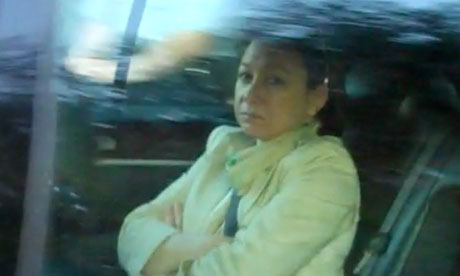 This year was Kodmani's second Bilderberg. At the 2008 conference, Kodmani was listed as French; by 2012, her Frenchness had fallen away and she was listed simply as "international" – her homeland had become the world of international relations.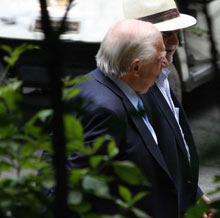 The CER is overseen by Lord Kerr, the deputy chairman of Royal Dutch Shell. Kerr is a former head of the diplomatic service and is a senior adviser at Chatham House (a thinktank showcasing the best brains of the British diplomatic establishment).
And many of her spokesmen colleagues are equally well-connected.
Radwan Ziadeh
The day opened with a keynote speech by James Prince, head of the Democracy Council. Ziadeh was on a panel chaired by Joshua Muravchik (the ultra-interventionist author of the 2006 op-ed "Bomb Iran"). The topic of the discussion was "The Emergence of Organized Opposition". Sitting beside Ziadeh on the panel was the public relations director of the MJD – a man who would later become his fellow SNC spokesperson – Ausama Monajed.
Ausama
Monajed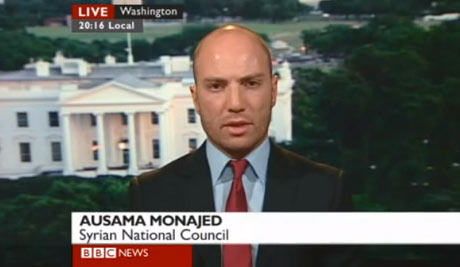 A state department spokesman responded to this story by saying: "Trying to promote a transformation to a more democratic process in this society is not undermining necessarily the existing government." And they're right, it's not "necessarily" that.
"Several US diplomatic cables from the embassy in Damascus reveal that the Syrian exiles received money from a State Department program called the Middle East Partnership Initiative. According to the cables, the State Department funnelled money to the exile group via the Democracy Council, a Los Angeles-based nonprofit."
The same report highlights a 2009 cable from the US Embassy in Syria that says that the Democracy Council received $6.3m from the state department to run a Syria-related programme, the "Civil Society Strengthening Initiative". The cable describes this as "a discrete collaborative effort between the Democracy Council and local partners" aimed at producing, amongst other things, "various broadcast concepts." According to the Washington Post: "Other cables make clear that one of those concepts was Barada TV."
The money
Building legitimacy – of opposition, of representation, of intervention – is the essential propaganda battle.
In a USA Today op-ed written in February this year, Ambassador Dennis Ross declared: "It is time to raise the status of the Syrian National Council". What he wanted, urgently, is "to create an aura of inevitability about the SNC as the alternative to Assad." The aura of inevitability. Winning the battle in advance.
A key combatant in this battle for hearts and minds is the American journalist and Daily Telegraph blogger, Michael Weiss.
Michael Weiss
So, the founder of Barada TV, Ausama Monajed, edited Weiss's report, published it through his own organisation (the SRCC) and passed it on to the Syrian National Council, with the support of the Henry Jackson Society.
The Syrian Observatory for Human Rights
Statistic after horrific statistic pours from "the Britain-based Syrian Observatory for Human Rights" (AP). It's hard to find a news report about Syria that doesn't cite them. But who are they? "They" are Rami Abdulrahman (or Rami Abdel Rahman), who lives in Coventry.
That name, the "Syrian Observatory of Human Rights", sound so grand, so unimpeachable, so objective. And yet when Abdulrahman and his "Britain-based NGO" (AFP/NOW Lebanon) are the sole source for so many news stories about such an important subject, it would seem reasonable to submit this body to a little more scrutiny than it's had to date.
The Observatory is by no means the only Syrian news source to be quoted freely with little or no scrutiny …
Hamza Fakher
So, who exactly is this "pro-democracy activist", Hamza Fakher?
As you may recall, the SRCC is run by one Ausama Monajed: "Mr Monajed founded the centre in 2010. He is widely quoted and interviewed in international press and media outlets. He previously worked as communication consultant in Europe and the US and formerly served as the director of Barada Television …".
Monajed is Fakher's boss.
If you happen to be planning a trip to Monajed's "Strategic Research and Communication Centre", you'll find it here: Strategic Research & Communication Centre, Office 36, 88-90 Hatton Garden, Holborn, London EC1N 8PN.
So, a report of atrocities given by a Henry Jackson Society strategist, who is the communications manager of Mosafed's PR department, has acquired the gravitas of a historical "record".
This is not to suggest that the account of atrocities must be untrue, but how many of those who give it currency are scrutinising its origins?
This has been brewing for a time. The sheer energy and meticulous planning that's gone into this change of regime – it's breathtaking. The soft power and political reach of the big foundations and policy bodies is vast, but scrutiny is no respecter of fancy titles and fellowships and "strategy briefings". Executive director of what, it asks. Having "democracy" or "human rights" in your job title doesn't give you a free pass.
And if you're a "communications director" it means your words should be weighed extra carefully. Weiss and Fakher, both communications directors – PR professionals. At the Chatham House event in June 2011, Monajed is listed as: "Ausama Monajed, director of communications, National Initiative for Change" and he was head of PR for the MJD. The creator of the news website NOW Lebanon, Eli Khoury, is a Saatchi advertising executive. These communications directors are working hard to create what Tamara Wittes called a "positive brand".
They're selling the idea of military intervention and regime change, and the mainstream news is hungry to buy. Many of the "activists" and spokespeople representing the Syrian opposition are closely (and in many cases financially) interlinked with the US and London – the very people who would be doing the intervening. Which means information and statistics from these sources isn't necessarily pure news – it's a sales pitch, a PR campaign.
But it's never too late to ask questions, to scrutinise sources. Asking questions doesn't make you a cheerleader for Assad – that's a false argument. It just makes you less susceptible to spin. The good news is, there's a sceptic born every minute.